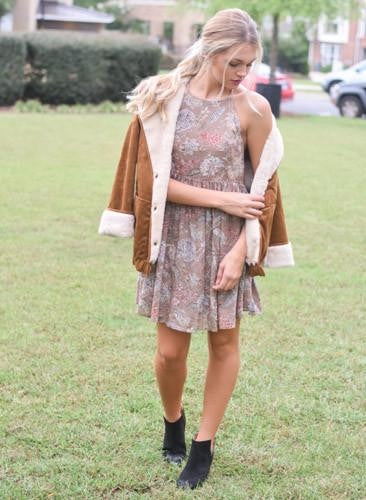 Fall Layering Inspiration
Are you ready for fall? One of the best things about fall is finally being able to wear all your favorite layering pieces - at once! Or at least a few at a time. Layering is one of the best ways to really make an outfit your own and gives you so many exciting styling options. Here are just a few of our favorite fall layering ideas to get the most out of your clothes.
Wear a slip dress over a t-shirt
Not ready to give up your favorite summer slips and sundresses just yet? Get another few weeks out of them by adding a t-shirt! A white t-shirt under a slip dress is a perfect 90's inspired outfit and an amazing way to layer up for fall. If it's already cold where you are, you can even add tights and an extra cardigan for a beautifully stylish October outfit.
Try a faux fur vest
A faux fur vest is the ultimate layering piece. While the weather is still warm enough, layer it over a t-shirt or lightweight sweater. When it gets colder, a vest is perfect for layering under coats and jackets to keep you nice and warm whatever the weather. Or why not wear your fur vest over a knit cardigan for an extra layer of warmth and style?
Wear a knit cardigan
Speaking of knit cardigans, you need a beautiful cardigan for fall. A neutral color like gray or beige will go with absolutely everything you own, and will keep you warm with hardly any effort at all. Just throw it on over whatever you like and you're good to go! A comfortable, slouchy knit cardigan will quickly become your favorite item of clothing.
Swap your old plaid shirt for a plaid cardigan
A plaid shirt is an eternal fall favorite. They reappear every year, thrown over t-shirts, worn under sweaters, or buttoned up with jeans. This year, why not try a little twist and swap your plaid shirt for a plaid cardigan instead? It's got all the same seasonal style, but it's extra warm and soft. What's not to like?
Wrap up warm in a shearling coat
When temperatures really drop, you're going to need a gorgeous coat. This shearling coat mixes 1970's hippie style with a seriously modern edge. It looks gorgeous with a mini dress and bare legs in early fall and it's perfect with denim and a sweater when the evenings get cold. If you want to wrap up warm without sacrificing style, then this is the coat of your dreams.
This is only scraping the very surface of layering tips and tricks! There are dozens of other fun ways to mix and match your clothes for fall, whether you want to wear your summer clothes a little bit longer or you're desperate to pull on your fall favorites. Start with these suggestions as inspiration and go have fun in your own wardrobe!

Will you be trying out any of these fall layering ideas? What are your favorite layering tips and tricks?