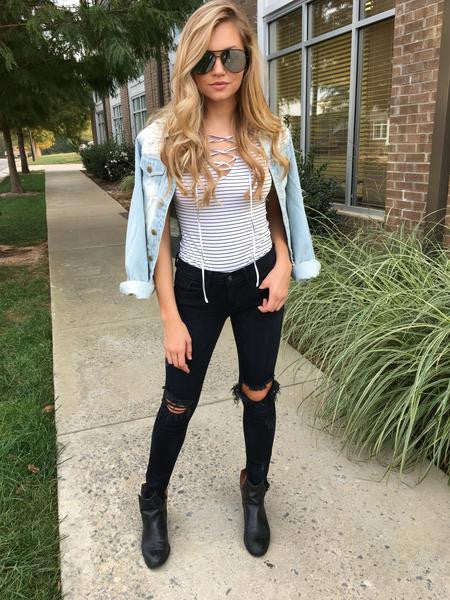 You might have noticed by now that we love denim. Skinny jeans, denim jackets, chambray dresses - all of it. That's one denim post just wasn't enough. We needed even more denim! This gorgeous classic fabric really is one of the key trends this fall, so we're betting that you can't get enough of it either!
In this post, it's time for the denim that's a little more edgy rather than retro. For inspiration, check out Bella Hadid's take on double denim. Feel free to tone it down with your favorite skinny jeans if a studded denim mini isn't quite your style!
90's inspired denim jackets
Remember those cropped denim jackets that everyone had in the 90's? Well, they're back in style in a major way, although with a few modern updates. Just look at Bella's light-wash denim jacket. The light wash is brighter and more modern than that bright blue that dominated 90's jackets, and the cropped fit is flattering rather than boxy.

To get the look for yourself, try our Today is The Day Denim Jacket. It's got the same light color and classic detailing as Bella's, with an even more fitted shape that will suit just about everyone! A little light distressing means it still has that edgy, vintage style.
High waisted jeans
High waisted skinny jeans are always in style - so much that you might even have forgotten about them. It's easy to overlook such a hard-working and multi-purpose item of clothing, but high waisted jeans definitely deserve your attention this fall! Just look at how gorgeous Gigi Hadid and Kendall Jenner look in theirs! In cooler weather, high waisted skinnies are perfect for tucking in a t-shirt or sweater, so that you can keep a beautifully defined silhouette while still wrapping up warm.

Ready to upgrade your jeans this fall? Our LA Street High Waisted Jeans are going to be your new best friends! In the perfect medium wash to wear anywhere, with anything, they have just a little touch of distressing to keep things casually cool.
Distressed jeans
Alternatively, you might be ready for something just a little more edgy. Try our Tear It Up Jeans, which are in a darker, moodier blue wash that will look absolutely perfect with darker fall colors and winter knits.
Black skinnies
For the ultimate in edgy denim, you need a pair of ripped black denim skinnies. They practically scream model off duty style and are a wardrobe staple that you will wear for years. Pair with a hoodie and leather jacket for casually edgy style, or use them to dress down a beautiful silk blouse. Our Fringe Distress Jeans take the distressing a little bit further for the perfect rock-chic denim piece.

Hopefully, you've checked out Part 1 as well! Which celebrity's style do you find most inspiring? And what's your favorite denim piece?