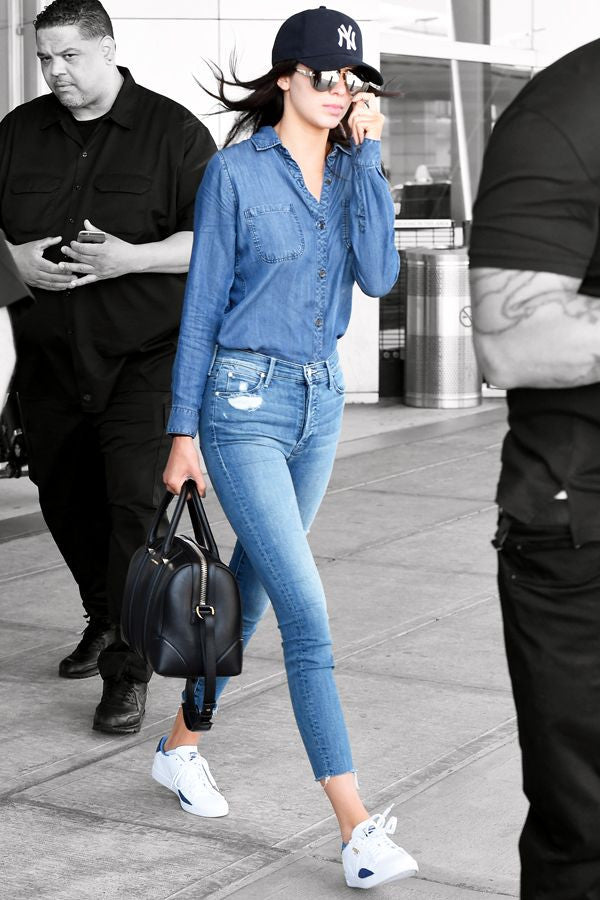 It's been a few years now since denim was a fabric we only saw for jeans and jackets. Plenty of designers appreciate all the amazing things that denim can do and use it in as many ways as possible. From denim dresses to accessories and even shoes, denim is everywhere.

This season, denim is really taking over the high street - and, of course, all your favorite celebs are wearing it! From classic dark denim jeans to ripped boyfriend jeans to elegant denim dresses, this fabric is hard to miss right now.

It's not really surprising that denim is so popular at the moment. Denim jeans never quite go away, of course, but with its heavy weight and structured shapes, denim is absolutely perfect for fall. It's also the perfect mix of casual and formal (when it's dark, at least) and looks just as beautiful in feminine shapes as in tailored straight-leg jeans.

If you're thinking about making denim your number 1 fabric this fall, here's your ultimate style inspiration: Margot Robbie. The actress looked absolutely gorgeous in a denim dress towards the end of summer, and her style is the perfect inspiration for turning denim into a serious style statement.

Denim Dress
Wear a gorgeous denim dress, like Margot's, for an outfit that's casual and comfortable but still pretty and feminine. Our Lacie Denim Dress is the perfect silhouette for fall and will look absolutely beautiful with leggings and boots as the weather gets cooler.

Chambray
For a slightly lighter look, how about a chambray shirt? We're used to seeing this fabric used for button-ups, but it can look gorgeous in so many other styles! Our Chambray Bae Puffer Vest is an unexpected twist on classic chambray that will keep you warm well into winter. Or what about our Lace Game Chambray Top? It's great with jeans for a casual double-denim look, or try it with a high waisted skirt for a feminine outfit with a twist.

Denim Jeans
Of course, the classic way to wear denim is a pair of gorgeous jeans. We have so many beautiful pairs to choose from in our denim section, but our favorite for fall are probably the Mel Jeans. Like Margot's dress, these are in a classic dark wash and are the perfect balance between modern style and the retro 70's look that Margot's dress is channeling.

How To Wear Denim
To get the absolute most out of your denim this fall, try pairing it with unexpected things. Sequins and pretty jewelry are perfect for a feminine look. Or layer up rich fall fabrics like velvet and suede for a gorgeous multi-dimensional style that will keep you stylish and warm. Follow Margot's lead and look for 1970's inspired silhouettes and accessories to stay absolutely on-trend.

Are you a denim lover? Which denim style is your favorite?