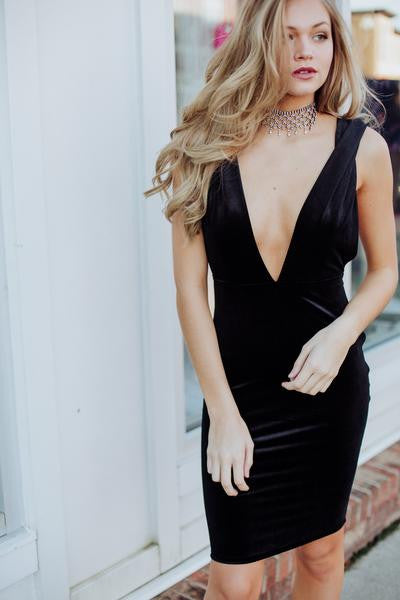 Are you ready for New Year? For most people, this is the biggest party of the year. It's the perfect opportunity to get dressed up and enjoy wearing all your prettiest clothes. If you've already got an outfit planned, congratulations! You're better organized than most of us! But if you're still looking for ideas, here are the best trends to try out this New Year's Eve.
Luxe Velvet
First up, why not try velvet? This luxe fabric has been everywhere this year and is perfect for a stylish, sophisticated evening look. Try a seriously sexy velvet dress like our Drapely Velvet Dress, or our Attention Grabber Velvet Dress. If your style is more bohemian or vintage, how about our Boho Floral Velvet Dress?

Even if you've already decided on a dress, it's not too late to try out the velvet trend. There are loads of velvet accessories available this season, so why not grab a velvet bag or try wearing some velvet shoes?
Metallics
If you really want to be the center of attention, you'll need to wear something metallic. It's totally up to you whether you choose silver or gold, but the shinier the better! Our Silver Bells Metallic Dress would be absolutely perfect for a glamorous party, or our Pour the Champagne Satin Romper is guaranteed to make you the most stylish woman in the room.

So far, we just been looking at dresses, but what if you want to wear separates? Don't worry, we've got you covered there as well! The best way to look stylish and sexy is to wear a crop top. If you make it metallic, like our Mia Metal Crop, then you'll be ready for anything the New Year throws at you!

The best thing about metallic dresses (or any metallic clothes) is that you barely need to worry about accessories. Metallic fabrics are so striking on their own that jewelry just seems unnecessary!
Leather Leggings
Not everyone will be going to an ultra-glamorous evening event. If you want to wear something a little more casual without sacrificing your style, how about a pair of leather leggings? The Panel Leather Leggings are the perfect mix of fashion and comfort that will look incredible with just about anything you like. For a seriously luxurious New Year's Eve at home, try wearing them with our Cali Girl Velvet Sweatshirt. Stylish, on trend, and comfortable - what more could you ask for?


Even if you've run out of time for shopping, we hope that some of these suggestions will inspire you to dig through your closet and find the perfect New Year's outfit!

What are your plans for New Year's Eve? And have you made any New Year's resolutions?