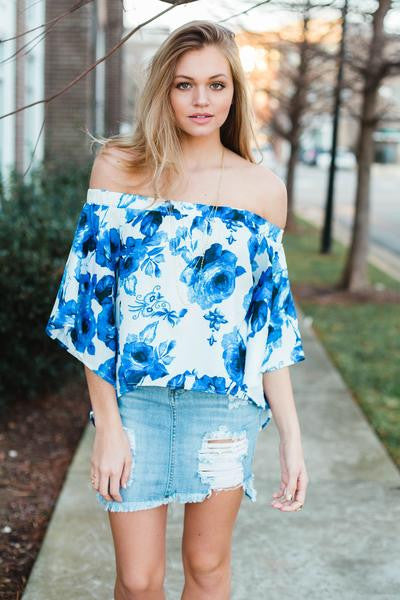 Off the shoulder necklines and details have been everywhere for the past few seasons, from the high street to the red carpet. Last summer, we were all wearing cute Bardot necklines with ruffles and frills, and now, in winter, cold shoulder sweaters are popping up everywhere.
This is a trend that's going absolutely nowhere anytime soon. Are you ready to rock it?
Off the shoulder styles
There are a lot of different neckline styles that could be classed as 'off the shoulder'. There's the strapless (but still with sleeves) style that was the biggest look of 2016 and is still going strong into 2017. Then there are the shoulder cut-outs that often get called 'cold shoulder'. Finally, there are also plenty of gorgeous one-shoulder styles.
Street Chic Off The Shoulder Jumpsuit
Why we love off the shoulder styles
If you check out our New Arrivals section, you'll notice pretty quickly that we love off the shoulder styles! Here are just a couple of reasons to try one of these gorgeous styles:
It's fun, flirty, and sexy. Showing off your shoulders is a great way to look subtly sexy without going crazy.

It's an easy way to wear something super on-trend - this is one of the biggest trends of the season, if not the year.

Off the shoulder styles look elegant and sophisticated. It's no coincidence that one particular off the shoulder style is named after Brigitte Bardot, one of the world's most stylish women and a true fashion classic.
Blue Blooms Off The Shoulder Top
How to wear off the shoulder in winter
It's obviously easy to wear off the shoulder styles in summer. But how can you style them in winter?
First of all, off the shoulder styles can be a fun surprise under a heavy winter coat. They aren't as cold as a cropped tee or super low-cut shirt, but still stop you from looking too bundled up all winter long.
Off the shoulder styles also look great with heavier jeans, which are perfect for winter weather but don't always feel cute enough for date night. Combined with a winter coat or jacket, an off the shoulder neckline will make your favorite jeans look stylish and fun.
You can also try out cold-shoulder sweaters as a seasonally-appropriate way to try out this trend. A tiny sliver of shoulder makes even the chunkiest sweater look sexy!
If you do still need to layer over your off the shoulder style, look for loose sweaters in a lightweight knit. These will skim over any ruffles or draping. A really loose, casual sweater could even be left to hang off one shoulder and show off your on-trend layers underneath.
Take The Cake One Shoulder Top
Are you going to be wearing off the shoulder styles this season? Which type is your favorite?