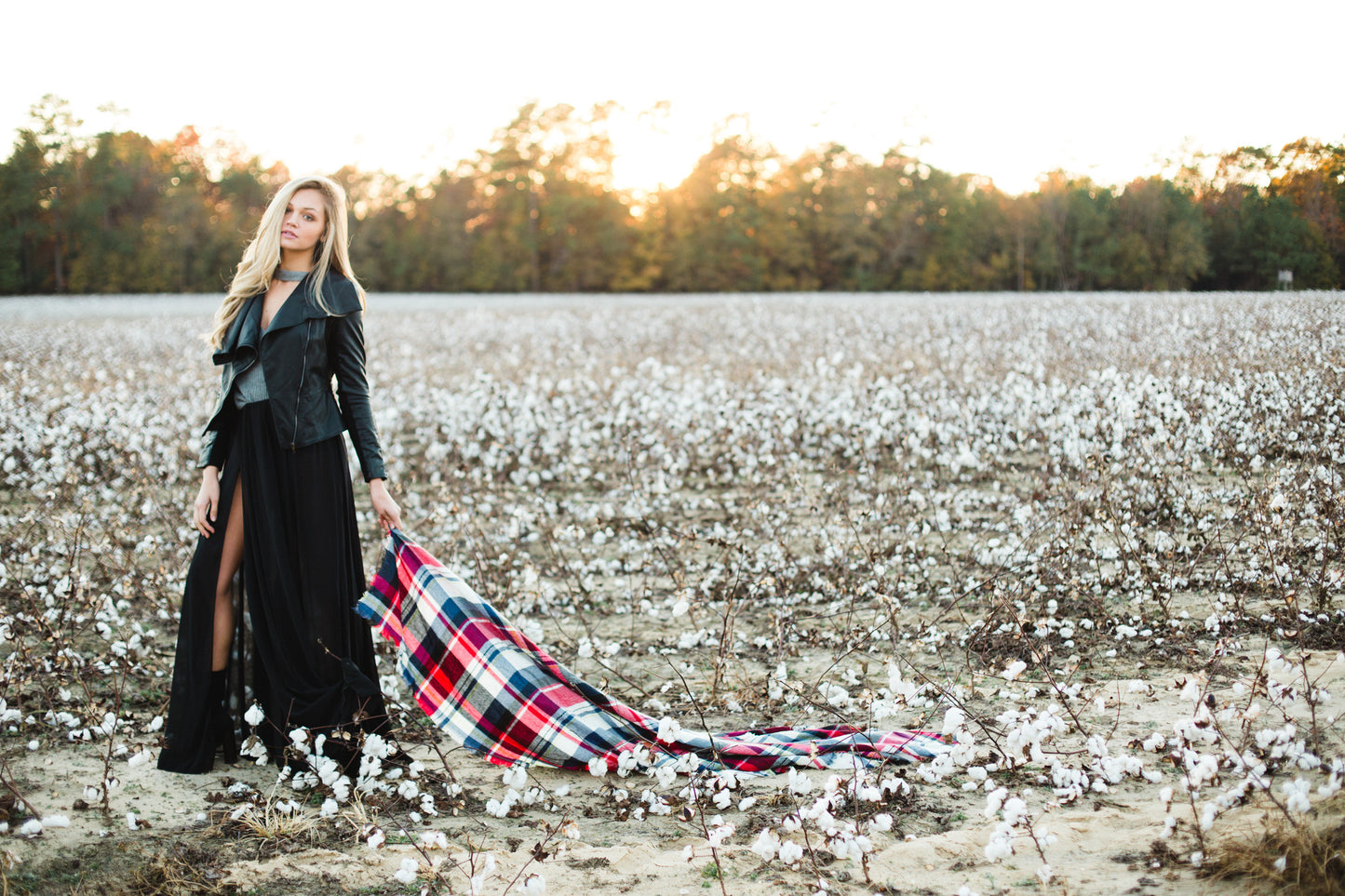 For a new twist on holiday dressing, update your prettiest dresses with a tougher edge. From sleek black maxi dresses to leather jackets, there's a unique and beautiful way to update your seasonal style, whether you want to buy a new dress or accessorize an old favorite. Here are just a few suggestions for finishing 2016 in style!
Sequins and Leather
Sparkly sequin dresses and black leather jackets have become a classic of holiday dressing. They're perfect if you want all the prettiness and glitter of sequins without sacrificing your ususal cool style. Soft, supple leather is the perfect material for elegant waterfall jackets, or thicker leather makes beautifully structured biker jackets or blazers. Pick whichever suits your dress best, and you'll have the perfect party cover-up.

Play up the edgy aspect of your jacket with black accessories. A skinny black choker is on-trend and the perfect way to echo the black of your jacket.
Metallic Pleats
Sparkling fabrics are perfect for Christmas dressing, but stretchy shimmer Lurex can look a little dated! A more modern approach is to look for metallic pleats, whether maxi length or midi length. In a rich gold or icy silver shade, this is a wonderful way to combine holiday dressing with modern style. This is the new, edgy alternative to metallic tulle, velvet, or satin.
Thigh-High Splits and Plaid
The ultimate edgy party dress is a maxi skirt with thigh-high slits. Combining the elegance of a floor-length skirt with the sexiness of a mini, these skirts are perfect for seasonal dressing without losing your usual sense of style. Style a black skirt with shades of gray and a touch of 90's-inspired plaid for a grunge take on holiday party style.
90's-Inspired Silhouettes
90's fashion is going nowhere, so why not try a 90's-inspired party dress? A black halter neck is elegant but the 90's influence gives it a cool edge that's missing in so many other maxi dresses. A sleek silhouette is formal enough for every occasion, but still modern enough for any party, or just a night in a bar if you add a choker and leather jacket.
Another great way to style a black maxi dress is to take a sporty-inspired cutaway halter neckline and combine it with classic accessories like a statement pearl necklace. The subtle print on this dress is elegant but unusual enough to add a unique twist, for holiday dressing that's classy but never boring.
Black Lace
Black lace is a style classic that can work for so many different events and personal styles. It can be elegant, sexy, pretty, or edgy. This lace maxi dress is a combination of all the best things about black lace. An elegant maxi skirt combined with sheer lace is casually cool in a subtle way.


There are so many other ways to combine pretty dresses and edgy style for gorgeous holiday dressing. What's your favorite way to look cool while still dressing for a glamorous party?