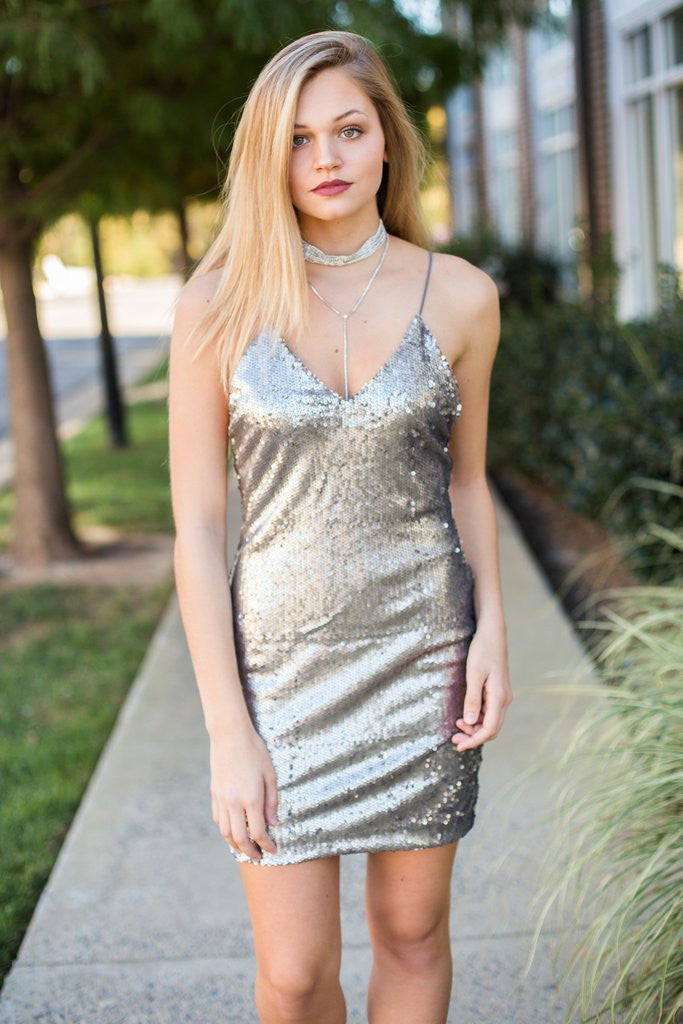 The holiday season is almost here! Now that Halloween is well and truly over, it's time to start getting ready for party season! Whatever you have planned for November and December, chances are that you'll want a couple of extra-special dresses. Why not choose something sparkly? Here are some of the top reasons to try a sequinned, beaded, or shiny dress - as if you needed convincing!
Sequins are seasonal
If you feel uncomfortable with the idea of being overdressed, this is the perfect time of year to try out sequins. Of course, you can wear sequins at any time of year, but the festive season is definitely a time when it's more socially acceptable to wear head to toe sparkle with extra glitter.
Glitter makes you feel happy!
It may not be a scientific fact, but it's definitely true. Putting on a sparkly, sequin covered dress is bound to make you feel just a little more optimistic. Try it for yourself! Even a subtle touch of glitter, on your nails or on a cute sweater, can make your day brighter.
Beaded dresses channel the 1920's
For decadent, classy, truly elegant glamor, no decade can beat the 1920's. The right beaded or sequinned dress conjures up that vintage style without looking like a costume. What more could you ask for?
Sparkles can be sophisticated
Unlike some other festive trends (like Christmas sweaters), sparkles and sequins can be sophisticated and elegant. They are the perfect way to bring a little seasonal style to a fancy event without looking inappropriate or out of place.
Shimmer can be low-key
Shimmer and sparkle don't have to be in-your-face. If sequins are a little too much for you, try a rich velvet with just a hint of shimmer. It has a lot of the same benefits but in a far more subtle way. Plus, velvet is one of the most in-trend fabrics this winter!
Sequins look great in low light
Sequins are the perfect evening wear. In the low lights of a restaurant or bar, sequins take on an incredible life of their own. They will catch all available light in a delicate, subtle way, and turn you into a glittering goddess.
Sparkle is pretty and feminine
Nothing feels as luxuriously feminine as a sparkly cocktail dress. It's the perfect way to live out all your childhood princess fantasies while still looking adult and sophisticated. A touch of sparkle adds just the right feminine edge to any outfit.
Sequins are perfect for high-low dressing
But, equally, sequins can be the perfect addition to a tougher, less girly outfit. You might be surprised at how amazing your pretty sequin dress looks with a leather jacket, or a casual sweater. With their rich texture, sequins can be the perfect layering piece in outfits that are anything but sweet and pretty.
Are you ready to sparkle through the festive season? Which one of these dresses do you like best?